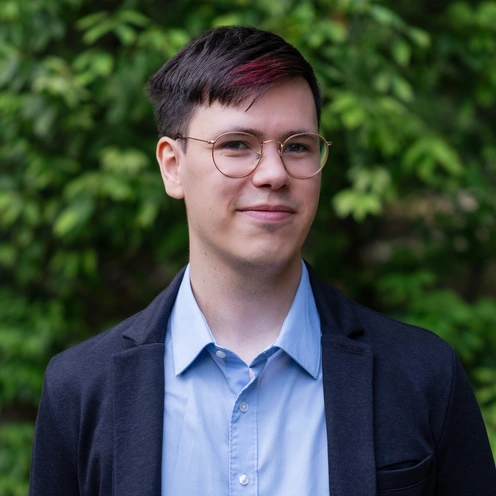 Célestin Matte
DevOps System Administrator
contact@cmatte.me
https://cmatte.me
30 years old
Nice, France
Education
2017

PhD in Computer Science, University of Lyon, INSA Lyon, France.

2014

Master (Diplôme d'ingénieur) at Ensimag, Grenoble INP. One semester in Aalto University (Finland).
Major: Engineering of Information Systems.

2011

DUT in computer sciences in Metz, first in the class. One semester in Germany.
Professional experience
2020 - now

Freelance engineer at ITG Consulting

2019 - 2020

2018

2014 - 2017

PhD student at CITI Lab - Inria Privatics: privacy-preserving Wi-Fi tracking.

Thesis: Wi-Fi Tracking: Fingerprinting Attacks and Countermeasures (

Manuscript

6

,

slides

7

)

4 publications in peer-reviewed conferences

1

2

3

4

+ 4 publications in general public technical journals

8

9

10

11

Teaching

(3 years): Algorithmics and programming. EN + FR, 1st-year Bachelor level.

Installation of a Wi-Fi tracking demonstration prototype at the

Cité des Sciences et de l'Industrie

(Paris) for the

Terra Data exhibition

12

.

2014

6-month internship at CITI Lab (Inria, Lyon): privacy problems in Wi-Fi technology.

2013

2-month internship at TDF: Solution for monitoring QoS of a network architecture.


2012

2-month internship at Digigram: Installation and configuration of a bugtracking system (Redmine), defining of needs and import of existing datas.

2011

6 months (internship + half-time job): Hochschule Mittweida, Germany.
Creation of a reporting system and a data warehouse (Qlikvew, Drupal).
Technical skills
OS: Debian, Arch Linux, Ubuntu
DevOps tools: Bash, git, Ansible, Docker
Software: Apache, nginx, Flask, MariaDB, postgreSQL, postfix, dovecot, SSH, fail2ban, OpenWRT, php-fpm, LXC
Programming: Python/Flask, PHP, JavaScript
Contributions to open source projects
Misc.
Languages: French (native), English (excellent), German (average).
Driving license.
"Study-Arts

24

" dance diploma from INSA Lyon.
Selected personal projects:

System administrator for an association in 2012-14: in charge of servers hosting student websites (Summary

25

)

sysadmin

Debian

Developer and administrator for the online game Sistearth

26

PHP

MySQL

Javascript

sysadmin

Maintaining 4 personal servers on Arch Linux and Debian (apache, Flask, postfix, dovecot, mariadb, fail2ban, openvpn, php-fpm)
Wrote several dancing shows, some using digital art (Kinect sensors) (Website

5

)

C

C++

libfreenect

OpenCL

SDL

panu

27

A XMPP (Jabber) bot

Python

XMPP

Slixmpp

SQLAlchemy
Contact
contact@cmatte.me (GPG

28

: 0xCB6A8BD6 – 6430 156C 58FF 95B8 7EA9 0F30 A1A6 28FE CB6A 8BD6)
Twitter: @CelestinMatte
Links
1: https://hal.inria.fr/hal-01282900
2: https://hal.inria.fr/hal-01176842
3: https://hal.inria.fr/hal-01330479
4: https://hal.inria.fr/hal-01330476
5: https://cmatte.me/danse
6: https://hal.inria.fr/tel-01659783v1
7: https://ploudseeker.com/files/docs/slides_these.pdf
8: https://bit.ly/misc81
9: https://bit.ly/glmfhs84
10: https://bit.ly/glmf202
11: https://bit.ly/misc96
12: http://www.cite-sciences.fr/fr/au-programme/expos-temporaires/terra-data/
13: https://github.com/Perdu/wombat
14: https://github.com/Perdu/Cookie-Glasses


15: https://github.com/Perdu/vendorlistexplorer
16: https://github.com/Perdu/Cookinspect
17: https://aur.archlinux.org/packages/wyrd-git
18: https://github.com/cavi-au/Consent-O-Matic/commits?author=Perdu
19: https://github.com/ranger/ranger/commits?author=Perdu
20: https://github.com/mathieui/poezio/commits?author=Perdu
21: https://gitlab.com/arandr/arandr/-/merge_requests/3
22: https://github.com/git/git/commits?author=Perdu
23: https://github.com/jcppkkk/redmine_mail_reminder/commit/28447193bae22bd38e98f53d6435ca5221a0ec54
24: https://www.insa-lyon.fr/sites/www.insa-lyon.fr/files/plaquette-art-etudes.pdf#page=8
25: http://cmatte.me/sysadmin_polecom_en.txt
26: http://www.sistearth.com
27: https://github.com/Perdu/panu
28: https://cmatte.me/CV/gpg