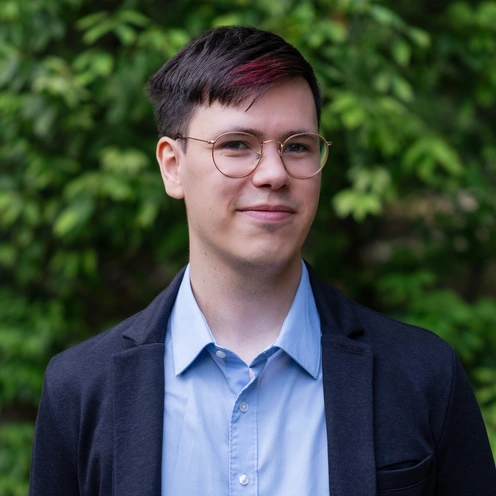 Célestin Matte
Privacy researcher, Wi-Fi & Web tracking
Publications
Conference publications:
Journals:
Tech report:

Célestin Matte, Mathieu Cunche, Vincent Toubiana
Does disabling Wi-Fi prevent my Android phone from sending Wi-Fi frames?

25

(2017)
Press: CNIL's blog

26

01net

27

Comment ça marche

28

Science et avenir

29

Frandroid

30

UFC Que Choisir

31

ZDNet

32

Hacker News

33

No. For Android, we show that another option, called "Always allow scanning", when activated, makes a device send Wi-Fi frames which can be used to track this device, even if the Wi-Fi switch is off. This option is not clearly described in all Android versions, and sometimes very hard to find. Besides, the Google Maps application prompts the user to activate this option. Similarly, for iOS 11, the Wi-Fi switch in the control center does not prevent Wi-Fi frames from being emitted by some services.

Thesis:

Wi-Fi Tracking: Fingerprinting Attacks and Countermeasures

34

(2017)

The recent spread of everyday-carried Wi-Fi-enabled devices (smartphones, tablets and wearable devices) comes with a privacy threat to their owner, and to society as a whole. These devices continuously emit signals which can be captured by a passive attacker using cheap hardware and basic knowledge. These signals contain a unique identifier, called the MAC address. To mitigate the threat, device vendors are currently deploying a countermeasure on new devices: MAC address randomization. Unfortunately, we show that this mitigation, in its current state, is insufficient to prevent tracking. To do so, we introduce several attacks, based on the content and the timing of emitted signals. In complement, we study implementations of MAC address randomization in some recent devices, and find a number of shortcomings limiting the efficiency of these implementations at preventing device tracking. At the same time, we perform two real-world studies. The first one considers the development of actors exploiting this issue to install Wi-Fi tracking systems. We list some real-world installations and discuss their various aspects, including regulation, privacy implications, consent and public acceptance. The second one deals with the spread of MAC address randomization in the devices population. Finally, we present two tools: an experimental Wi-Fi tracking system for testing and public awareness raising purpose, and a tool estimating the uniqueness of a device based on the content of its emitted signals even if the identifier is randomized.
Talks
Invited talks:

03-2021: at Utrecht University, Master's Programme Law & Technology in Europe on cookie banners and Wi-Fi tracking
01-2020: at Brave on cookie banners
09-2019: at CNIL on cookie banners

Workshops:
Community Service
Organization Committee: GreHack'15

50

Program Committee: APVP'19

51

, APVP'20

52

, WiSec'20

53

(Sub-)Reviewer: CoNext2015StudentWorkshop, TrustCom'16, EuroS&P'19, TheWeb'20, The Computer Journal, PETS'20, PETS'21, IEEE TWC

54

Member of the Conseil de laboratoire:

CITI lab, 2015-2016 (one year)
Inria Sophia, 2019-2020 (7 months)
Contributions to open source projects
Misc.
Languages: French (native), English (excellent), German (average).
Driving license.
PSC1: Prevention and civic aid, level 1 (French first aid diploma).
"Study-Arts

77

" dance diploma from INSA Lyon.
Selected personal projects:
Contact
contact@cmatte.me (GPG

83

: 0xCB6A8BD6 – 6430 156C 58FF 95B8 7EA9 0F30 A1A6 28FE CB6A 8BD6)
Twitter: @CelestinMatte
Links
1: https://hal.inria.fr/hal-02490531
2: https://chrome.google.com/webstore/detail/cookie-glasses/gncnjghkclkhpkfhghcbobednpchjifk
3: https://arxiv.org/abs/1911.09964
4: https://twitter.com/nataliabielova/status/1199658816134164482
5: https://hal.inria.fr/hal-02566891
6: https://twitter.com/nataliabielova/status/1261302416147873795
7: https://privacyforum.eu/
8: https://www-sop.inria.fr/members/Nataliia.Bielova/cookiebanners/
9: https://github.com/Perdu/Cookie-Glasses
10: https://www.ieee-security.org/TC/SP2020
11: https://www.techdirt.com/articles/20191210/07425443541/guess-what-many-cookie-banners-ignore-your-wishes-so-max-schrems-goes-gdpr-attack-again.shtml
12: https://www.nextinpact.com/news/108495-cookies-refuses-mais-installes-cdiscount-allocine-et-vanity-fair-attaques-devant-cnil.htm
13: https://www.mediapart.fr/journal/france/190220/donnees-personnelles-les-cookies-resistent-encore
14: https://www.lemonde.fr/pixels/article/2019/12/10/vie-privee-cdiscount-allocine-et-vanity-fair-vises-par-une-plainte-d-une-ong_6022380_4408996.html
15: https://linc.cnil.fr/mecanismes-et-recueil-du-consentement
16: https://hal.archives-ouvertes.fr/hal-01330476/
17: https://www.sigsac.org/wisec/WiSec2016
18: https://hal.inria.fr/hal-01330479/
19: https://hal.archives-ouvertes.fr/hal-01282900
20: http://meeting.xidian.edu.cn/conference/AsiaCCS2016/papers.html
21: https://hal.inria.fr/hal-01176842
22: https://www.sigsac.org/wisec/WiSec2015
23: https://techreg.org/index.php/techreg/article/view/43
24: https://techreg.org/index.php/techreg
25: https://hal.inria.fr/hal-01575519v2
26: https://linc.cnil.fr/fr/desactiver-le-wi-fi-android-ne-nous-preserve-pas-du-tracage
27: https://www.01net.com/actualites/sur-android-le-wi-fi-peut-vous-tracer-meme-s-il-est-desactive-1245292.html
28: https://www.commentcamarche.net/news/5870290-meme-desactive-le-wi-fi-reste-tracable
29: https://www.sciencesetavenir.fr/high-tech/google-android-detecte-en-permanence-la-localisation-du-telephone_116061
30: https://www.frandroid.com/android/mises-a-jour-android/487194_le-nfc-pourrait-bientot-etre-utilise-meme-quand-vous-le-desactivez
31: https://www.quechoisir.org/actualite-smartphones-android-meme-une-fois-le-wi-fi-desactive-vous-etes-piste-n46076/
32: https://www.zdnet.fr/actualites/android-desactiver-le-wi-fi-n-empeche-pas-d-etre-espionne-39856640.htm
33: https://news.ycombinator.com/item?id=15141077
34: https://hal.inria.fr/tel-01659783v1
35: http://planete.insa-lyon.fr/scolpeda/f/ects?id=31099&_lang=fr
36: https://planete.insa-lyon.fr/scolpeda/f/ects?id=30011&_lang=fr
37: https://github.com/Perdu/vendorlistexplorer
38: https://github.com/Perdu/Cookinspect
39: https://github.com/Perdu/wombat
40: https://github.com/Perdu/panoptiphone
41: https://gitlab.com/cmatte/ansible-pglister/
42: https://gitlab.com/spi-inc/members-django


43: https://project.inria.fr/apvp2019/programme/
44: https://apvp2017.sciencesconf.org/
45: https://hal.inria.fr/hal-01679007/
46: http://phd-day.citi-lab.fr/2016/index.html
47: https://apvp2016.sciencesconf.org/resource/page/id/2
48: https://bit.ly/stda2014
49: http://apvp14.orange-labs.fr/?page_id=2
50: http://grehack.fr/2015/info
51: https://project.inria.fr/apvp2019/organisation/
52: https://apvp2020.sciencesconf.org/
53: https://wisec2020.ins.jku.at/organization/
54: https://publons.com/researcher/4082188/celestin-matte/
55: http://www.cite-sciences.fr/fr/au-programme/expos-temporaires/terra-data/
56: https://programme.passageenseine.fr/
57: https://connect.ed-diamond.com/GNU-Linux-Magazine/GLMFHS-099/Tracage-Wi-Fi-qu-en-est-il-en-pratique
58: https://bit.ly/misc96
59: https://bit.ly/glmf202
60: https://bit.ly/glmfhs84
61: https://bit.ly/misc81
62: https://android-developers.googleblog.com/2017/04/changes-to-device-identifiers-in.html
63: https://mentor.ieee.org/802.11/documents?is_dcn=privacy
64: https://noyb.eu/say-no-to-cookies-yet-see-your-privacy-crumble
65: https://www.lefigaro.fr/secteur/high-tech/allocine-cdiscount-et-vanity-fair-accuses-de-depot-illegal-de-cookies-20191211
66: https://www.lesechos.fr/tech-medias/medias/ces-entreprises-qui-vous-tracent-meme-si-vous-refusez-leurs-cookies-1155052
67: https://www.europe1.fr/technologies/trois-grands-sites-francais-et-leurs-partenaires-accuses-dignorer-le-refus-des-cookies-3936626
68: https://www.bfmtv.com/tech/sur-ces-sites-francais-refuser-les-cookies-ne-suffit-pas-a-ne-plus-etre-trace-1821554.html
69: https://aur.archlinux.org/packages/wyrd-git
70: https://gitlab.com/pglister/pglister/-/commits/master?author=cmatte
71: https://github.com/postgres/pgarchives/commits?author=Perdu
72: https://github.com/ansible-collections/community.general/commits?author=Perdu
73: https://github.com/cavi-au/Consent-O-Matic/commits?author=Perdu
74: https://github.com/ranger/ranger/commits?author=Perdu
75: https://github.com/mathieui/poezio/commits?author=Perdu
76: https://github.com/git/git/commits?author=Perdu
77: https://www.insa-lyon.fr/sites/www.insa-lyon.fr/files/plaquette-art-etudes.pdf#page=8
78: http://cmatte.me/sysadmin_polecom_en.txt
79: http://www.sistearth.com
80: https://cmatte.me/danse
81: https://github.com/Perdu/panu
82: https://github.com/Perdu/html-pdf-cv-generator
83: https://cmatte.me/CV/gpg